Long-Distance Movers
Execute any long-distance move with exceptional customer services & no stress, all with the support of High Quality Moving Company.
Having to relocate your home or office possessions to a distant location is almost never an easy task. Long-distance relocation requires a lot of time, energy, and effort if it is to be a complete success. If you find yourself on the cusp of relocation, all you have to do is give our High Quality Moving Company a call. We have employed some of the best long distance movers Detroit has to offer, and we have made sure our moving equipment is up to the standards. Our team offers the full package, from packing and loading to transportation and unpacking. With us by your side, your move will be quick, simple, and stress-free. Get a free moving estimate today!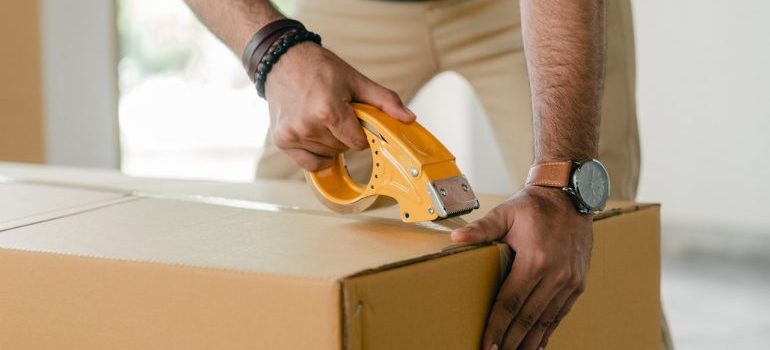 Let High Quality Moving Company plan, organize, and execute your relocation
Relocation planning and preparation is a process that can last for an extensive amount of time. The farther you are moving, the more variables do you have to take into consideration. As a professional moving company that has been providing moving services in Michigan since 2010, we have a first-hand experience of what those variables are. It is for that reason that our long distance movers Michigan residents know and love will have no problem creating the best plan for the relocation of your belongings.
Our tailored moving plan will not only be adjusted to your needs, but it will also cover all the stages of your relocation. You will have a start-to-finish plan, as well as moving assistance during that same period. Once you have all the assistance you need, it will be easy to say goodbye to moving stress and anxiety, turning your relocation into a pleasant memory.
Our long distance movers in Michigan come with a plethora of moving services to choose from
Is there a certain aspect of your long-distance relocation that worries you the most? Don't get too worried – not until you take a look into our moving assistance options. At High Quality Moving Company, we have ensured you have the option of getting necessary help every step of the way. Therefore, you can get:
You don't have to worry about opting for the basic relocation package or adding special services into the mix. Our long distance movers in Detroit always pay equal attention and consideration to all of our customers. Every relocation gets the attention it deserves from our team – without any exceptions.
Store your belongings in our monitored storage facilities
If you are not sure that your entire relocation will go according to plan, then you might want to ensure you have a back-up plan. That is when storage solutions enter the scene. With a unit that can safely facilitate all of your belongings, you won't have to worry if any delays occur. Of course, you can also decide to downsize your household before a long-distance move and find yourself in need of a place that can house the surplus items.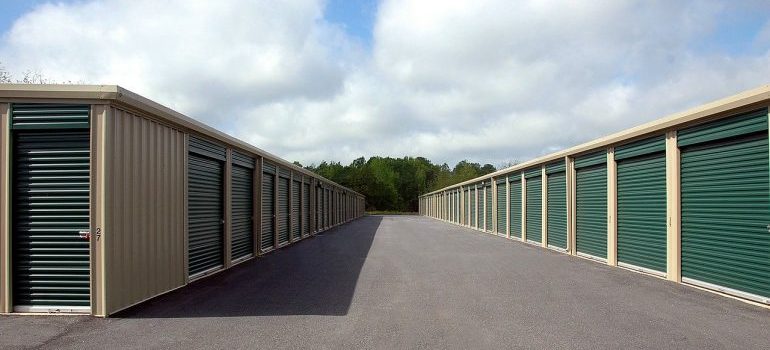 Our storage units were designed to fit items of all types. From your office chairs to garden supplies, you can count on our units to provide full protection for your belongings. Our premises are monitored, clean, and spacious. Ask our representative to help you choose the best size of the unit if you have any problems deciding. We find it our job to help you make the best decision for your needs.
Our competitive prices will ensure your complete satisfaction with our services
Achieving a high customer satisfaction rate has always been high up on our list of priorities. From the very start, we knew that reasonable and competitive prices played a huge role in the final satisfaction of our customers.
Knowing that our prices carry a competitive price tag doesn't mean much unless you request a free moving quote from our team. We will be quick to provide you with an accurate representation of your moving expenses, and we will not include any hidden fees or extra charges in the quote. Feel free to heavily rely on the quote that you receive, as the final price of our long distance movers Michigan based will be as close as possible to the estimate.
Watch our long-distance moving team in Detroit work in perfect unison
They say that there is no I in the team. Our Detroit long distance movers are a perfect example of that. It doesn't matter whether they are doing a big or a small job, whether they are moving office or household possessions. Our movers work together like a well-oiled machine. It is due to the great teamwork, as well as their efficiency, that our movers are able to relocate your possessions in the optimal time span. Most importantly, the great work of our moving team will protect your belongings, your property, as well as your moving day safety.
Of course, when composing our Michigan long distance moving team, we hired only the most qualified individuals. All of our movers have gone through extensive training and a lengthy background check. Whether they are in charge of local moves or long-distance ones. That is why our customers get to reap the benefits of years of experience in all things moving-related.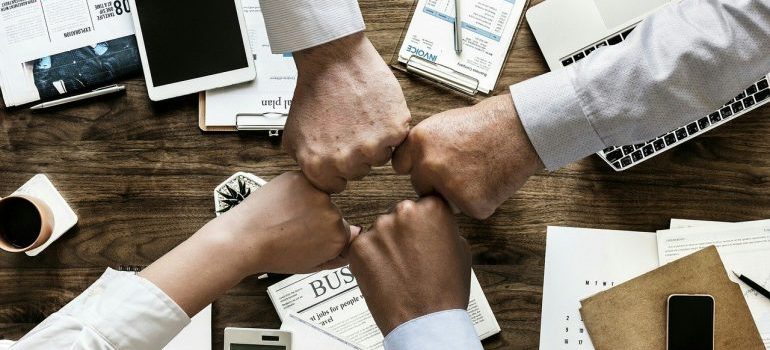 Get in touch with High Quality Moving Company today
It's never too soon to start preparing for your move! In case you don't want to do it by yourself, all you have to do is pick up your phone and give us a call. At High Quality Moving Company, we don't mind going the extra mile in securing your satisfaction with our services. Let some of the best long distance movers Detroit has to offer provide you with valuable moving assistance every step of the way. Apply for a free moving quote now.